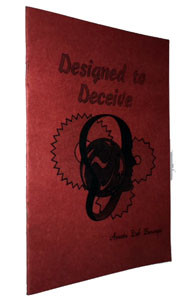 A soft cover, A-5 size 24 pages book, clearly illustrated with over 3 dozen line drawings. The author of the book worked in a laboratory for long and developed a knack for making and performing apparatus magic.
This book contains eight of his creations – all highly commercial, offbeat apparatus magic. In 'Spirit in the Sand', an invisible finger mysteriously writes a selected number in a tray of sand. 'Something Out of Nothing' is an effect where three glasses of liquid appear on a tray. The Spirit Cabinet is a box in which a spook inverts a clear tumbler and places a handkerchief inside. In his Pre-Determined Destination, the spectator finds a passport to his selected country from a choice of several options, and much more. Many of the effects have flavours of mentalism. In addition, these effects uses mechanical self working props, that "do" the magic for you.
All these effects are highly commercial effects. The special props required for these effects can be fabricated at home with reasonable skill and artisan ship. Alternatively, a professional tinsmith or carpenter can assemble the apparatus for you very easily from the clear descriptions and illustrations provided.
Designed to Deceive is a book for the magicians who like making clever props and prefer self working apparatus magic. The effects in the book do not require much skill to perform but with suitable showmanship and presentation create a strong impact on the spectators. (INR 35.00)