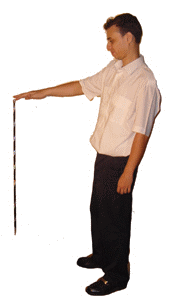 This is a classic magic effect, where the Magicians Cane becomes magically animated and dances with the performer to music. We have earlier stocked a wooden model of the item. This is a new light weight metal model.
Have the cane swing from side, or have it go around your hands or body or just let it rise, or swivel in mid air.
This is a sleek light weight metal dancing cane 32″ in length. It unscrews in half for easy transportation, and comes to you complete with detailed illustrated instructions to help you perform all the moves above and put this in your act.