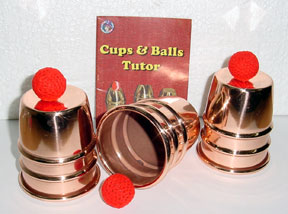 A classic of Magic, where balls penetrate through, appear and vanish and change to large balls or fruits under three cups. We have produced several models of the item, in various sizes, from very cheap and small plastic models, to larger models in Aluminum, Copper and Brass.
With the ever escalating price of copper and brass, (now 3 times more than it was just two years ago), our larger copper and brass Cups and Balls have become prohibitively expensive for most magicians. We have produced these plated cups as an affordable alternative, with the gleaming appearance of copper cups, but at the price one would expect to pay for a similar aluminum set. They are in fact Aluminum Cups, plated copper, and heat lacquered for a durable finish.
These cups are designed in the "dumpy" style, to hold a much larger load than apparent, and will allow you to produce a large climax load. Each cup measures 3″ at the mouth, 2.25″ on top, and is 3.5″ high. Each set comes to you with 3 cups, 4 crocheted balls, and a complete booklet of instructions (22 printed illustrated pages), teaching you all the basic moves, and routines that range from self working to advanced, requiring some skill and practice.