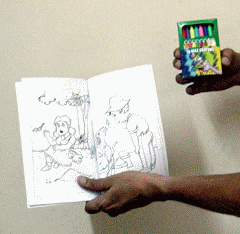 crayAll the crayons vanish from a box full of crayons, and the colors appear in a coloring book, or a silk, or black and white line drawing.
This is an excellent magic touch to use with any magic coloring book. You could also use it to transform a white silk to a multicolor or rainbow one (via a change bag) or for Instant Art or Color it pictures, where colors magically fill in a black and white line drawing, as it is pulled out of a window frame.
A simple item that adds an additional touch of magic to your Coloring routine at a very affordable price.