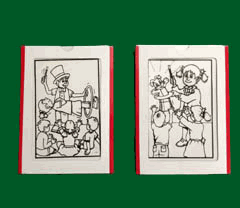 A low price model of the famous Instant Art or Magic Painting effect. The performer displays a black and white picture of  a boy or girl magician  in an envelope with a cut-out front.
The picture is pulled out of the envelope, and as it emerges it is visibly colored in many eye catching colors. Push the picture back in, and it is in black and white once again. These pictures are Jumbo card size, measuring 5.25″ x 7.25″.
Available in two different models, with custom art by famous Magic illustrator Bill Wright specially done for Funtime Magic.
One picture shows a Boy magician performing a floating girl illusion, and one of a Girl Magician pulling a Rabbit from a Hat. Specify which you prefer when you order, or better still get both – its very affordable.