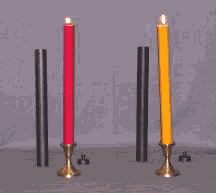 This is exactly half the Passe Passe Candles to Flowers outfit pictured above, and comes to you at half the price. 
The performer displays a lit candle, (say red) on a candle stand. A narrow tube is now placed over the candle, (with the flames showing over the top) then lifted, and the candle has magically changed to a different  color, (say Yellow).
This color changing effect can be repeated if you wish. Finally a cap is placed over the tube to extinguish the flame. When the tube is now lifted, the candle has transformed to a flower bouquet.
Besides the effect above, you could also use the same apparatus for performing the standard Candle To Flowers effect, where a lit candle covered with a tube changes to a bouquet of flowers. Complete with powder coated non rusting metal props as above.