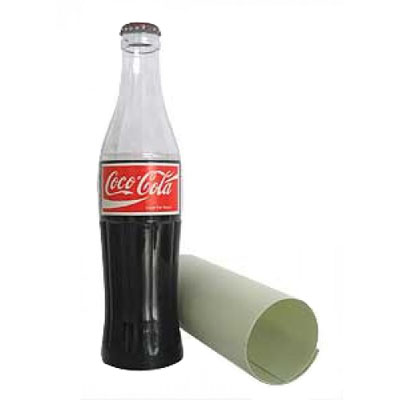 A Coca-Cola Bottle full of liquid is displayed. The magician claims he will make it disappear. The bottle is covered with a piece of "paper" rolled into a cylinder. Since the cylinder is only half the height of the bottle; the audiences can clearly see the lower half of the bottle.
Everything is covered with a handkerchief. He claims that the bottle will now disappear. When the handkerchief is removed, the bottle and the cylinder are still visible.
Performer claims he will vanish the bottle visibly. He pushes the cylinder down over the bottle making the bottle shrink, till it is completely covered by the cylinder! The cylinder is then turned, allowing the audience to see right through it!
Comes complete with the specially made bottle that holds the liquid, the cylinder, a large handkerchief and illustrated instructions.