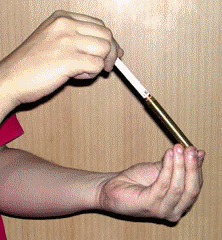 A popular close-up effect, that we used to produce, but has been unavailable for  several years. With the anti smoking campaigns around the world, we have now remade this, as a topical "cigarette torture" effect that can be adapted to the theme.
EFFECT: A borrowed cigarette (it may be marked) is placed in a solid brass tube, into which the Cigarette exactly fits.  There are no gaps or space for even an extra pin.
A cap is screwed onto the tube, locking the Cigarette in place. The Cigarette is visible in the tube through five pairs of holes along the sides of the tube.
The performer now takes five large nails and pushes them through the holes, each nail apparently going through the middle of the Cigarette.
The nails are then removed, and the cap opened.  The same Cigarette is tipped out of the tube and it is totally unharmed. A fantastic
effect. The effect is by  no means new. But our model is precision engineered from solid brass.
Several refinements have been incorporated into the apparatus and routine to make this a strong magic effect.  The nails go through the Cigarette from top, middle, and bottom and not just near one place.
A handsome prop, precision machined in brass, and one you will use, and which will last for ever.
---