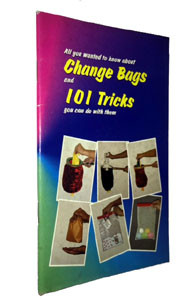 Soft cover book, 5.5" x 8.5" size with 48 pages, and information on a variety of Change bags, and 101 tricks you can do with them.
As the name suggests, this book contains 101 tricks , (including tricks from "23 Deceptions with a Change Bag") that can be done with different varieties of change bags including the Flat or Draw String Change Bag, One Hand Change Bag, Regular Two Hand Change Bag, Repeat Change Bag, The Clear force Bag and The Mesh Change Bag.
The tricks contained in this book can be performed by beginners, amateurs or pro's, kid show performers or mentalists. And you will probably come across something that will prompt you to wipe the cobwebs off that bag in your collection of junk, and put into your act! Or perhaps a presentation angle will spark an application for another of your Change Props, like a Card Box, or a Change envelope etc.
A new Electro Fun publication, includes never before published mental routines, worth 10 times the price of the book. Excellent value. (INR 50.00)