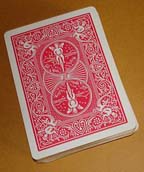 We regularly receive queries from Magicians for Bicycle Decks which are the standard Playing Card decks used by Magicians around the world. 
They are POKER size cards, finished to exacting standards, so that any card or gimmick from any Bicycle deck will blend perfectly into any other. 
The cards are easy to fan and manipulate, and very long lasting. Though they cost 10 times more than a regular deck of cards made in India, they are indispensable for the discerning Card worker. 
We have now obtained a limited stock of these decks exclusively for our Indian magicians. Available in Red or Blue Back, or you can get a pair of RED & BLUE at a special discount. (The discount does not apply to two or more decks of the same color, – only to a pair of Red and Blue back decks).  These are not imitations, but genuine Bicycle decks, produced by the US Playing Card Co.
Available while they last for sale in India ONLY. No dealer discounts or additional discounts of any type available on these decks.