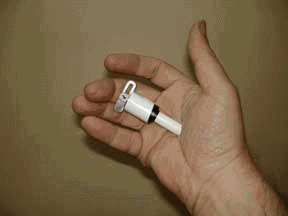 A Funtime Magic Original – First time advertised.
Some time ago we introduced the Vanishing and Appearing Canes in stainless steel – giving you a maintenance model of these classic props. 
We now bring you a stainless steel powder coated model of another classic prop – the Appearing Magician's Wand. 
The Appearing Wand is in fact a high quality stainless steel spring coil attached to a ferrule and locking arrangement. When released it opens out into the shape of a Magic wand, about 14″ in length. In the closed condition, it measures only 2.5″ inches in length, (half the size of a collapsed Appearing Cane), and may be very easily concealed in your hand. 
This new Stainless Steel Powder coated model, requires no oiling, cleaning or other maintenance. It will not rust like the traditional steel models. Just keep it free of dust, and wipe it clean occasionally, and it will give you a lifetime of service. The metal version will outlast the cheaper plastic models many times over.
In effect, the performer reaches into the air, and a wand magically appears in his hand. Ready to use, complete with instructions.