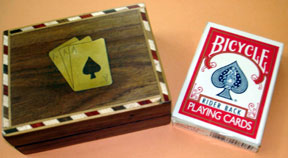 The Card Change Box is one of the classic utility props, with a host of applications. As the name suggests it is a box for changing a playing card, and can be equally effective to change a business card, paper slips, or envelopes, currency notes etc.
This model resembles an antique inlaid wooden box, made in exotic hard wood, and apparently designed just to hold your "precious deck of cards", complete in it's original board case. It is a prop that will get immediate attention, yet seems like no more than an antique inlaid box. The special card inlay design makes it just a Card Case !
It is designed in a size to hold a complete deck of playing cards with case, (Bridge or Poker size), making it a natural prop. You could use it to hold your deck of cards, remove the cards from the box during performance, and use the box for the change during your effect. The audience does not suspect it as a special magician's prop. 
Unlike most card boxes, which are black inside, this model has a natural wood finish interior making for a much more natural prop. Supplied ready to use with several presentation ideas.Collector quality, at a very reasonable price.