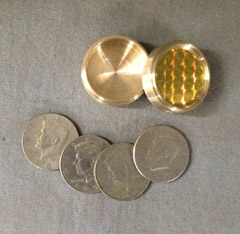 As the name suggests it is yet another coin box to add to the several varieties already on the market. But that's not all. This special precision box machined from solid brass is designed to serve the functions of several boxes all rolled into a single box. With this one box, you can perform virtually any routine using an OKITO BOX, a BOSTON BOX, a GERMAN BOX or COIN CUP, and more. 
The manuscript that comes with the box explains a Demonstration Routine for Another Box, that highlights some of the special features of the box, and a large reference of standard books, and effects you can perform with this prop. Get the box, play around with it, and you will find it will do a little more for you than just a standard Okito or Boston Box. 
Available in 2 Models
Half Dollar Size ( for coins approximately 31 mm Diameter) – Made for coins of the US Half Dollar size,  old English Penny, pre-indpendence Indian Rupee etc.
Indian Rupee Size (for coins approximately 28 mm Diameter) – Made for coins of the Indian Rupee (1960s mint), Swedish 5 Kronor, Italian 100 Lira etc.