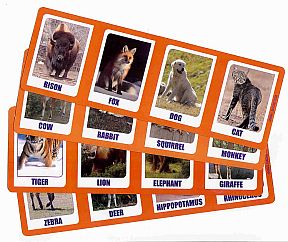 Effect : The performer displays four cards, with pictures of different animals on front and back. 
Four spectators are invited to think of one animal each on the four boards. The magician now reveals which animal was selected by which spectator. There is no force, and the magician does not ask the spectator to write down or reveal his selection to anyone.
This is based on an old card effect, where several cards are placed in a matrix, and spectators asked to select a card.  In this version the principle is very well disguised, and will fool even those familiar with the old card effect.
We supply you the four cards attractively printed and laminated for long life, which make the effect automatic in performance.Each card has four animal pictures on each side. Complete with handling instructions to suit beginner or pro !