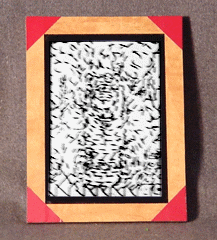 Performer shows a large (8.75″ x 11.5″) Photo Frame, with a picture of black spots splattered all over. 
As the audience attempt to make sense of this piece of "Modern Art", the picture visibly and instantly transforms into a perfectly legible black and white drawing. But the performer comments the picture is rather drab for such an expensive frame. He waves the picture, and it is instantly colored in many bright colors. Easy to do, completely self contained and mechanical, with nothing to add or take away. You do not need to pull the picture out of the frame for the coloring, or cover the frame. Excellent for Birthday Party shows, Kid shows, or a general audience. (Combine this with our Crayon Vanishing Box for added effect, where the crayons vanish from the box, and appear in the picture for a great visual coloring routine).
This new model has several improvements over our earlier model of the item, making this easier to handle, and a much more durable prop. It comes to you complete with instructions for handling and performance.