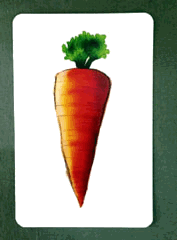 Here's a super children show effect which is easy to carry, easy to reset and easy to perform. The plot and theme are so easy that children of all ages can follow it well.
Its got a surprising CLIMAX too !
The performer displays a JUMBO sized pictorial card depicting a picture of a nice Juicy Carrot, printed in bright orange, green and with bold black outline The picture of the full-size carrot is placed inside a shown empty envelope. He secretly (but obvious to the audience) reverses this, so that when the card comes out, the children realise that "its the other side". And proudly the performer displays a picture of a well nibbled carrot, with only a small portion of the carrot showing together with the green stump. "I told you I would make it disappear – well, at least most of it" says the magician, as he replaces it back inside the envelope.
To make it change back again the performer secretly (and obviously) reverses the envelope as before and brings out the card, showing that the carrot is again complete and full-sized. This can be repeated over and over again until the children are quite aware of what the performer is doing. Once pulled out of the envelope (which can be handed out if wished) the card still depicts the three-quarter eaten carrot, but as the children shout to see the "other side", the performer obliges.
There boldly illustrated on the reverse side of the card is a cute picture of a bunny rabbit, nibbling the carrot. What a SURPRISE! – and what a fat looking rabbit he is – must have been responsible for eating the carrot.
A nice sucker trick that packs flat, and can be played as short or long as you wish. We supply required Jumbo Cards,  fakes and Envelope along with detailed instructions.